A home office's best friend: Which chair to choose?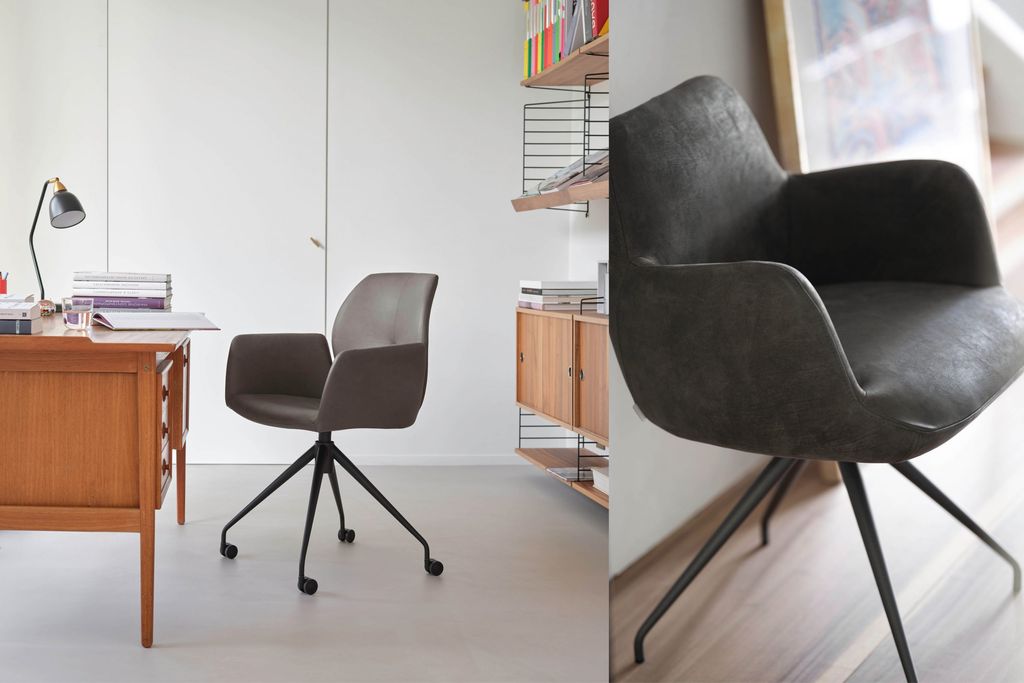 Working from home requires proper seating!
This may sound somewhat trivial, but we are willing to bet that many of you have been thinking the same over the last few weeks.
Producing office furniture is not exactly our specialty. However, our catalogue does contain a few models of chairs whose comfort and ergonomics make it possible to work in excellent conditions!
A Moods chair for your office
The strong suit of a Mobitec chair, compared to a traditional office chair, is that it is entirely customizable, which means that it can be optimally matched to your interior. With a chair like that, you will be homeworking in style!
The Moods collection, in particular, offers a whole range of very practical options. We will be highlighting 4 features that make the Moods chairs excellent office chairs.
1. An office chair with castors
Among the new features for 2020, we have developed a swivelling metal base mounted on castors which is available for the Mood#91, Mood#95, Mood#92 and Mood#96 shells.
This new base mounted on castors was specifically designed to meet the needs of the many people seeking to use a Mood chair as an office chair.
A little tip: do not hesitate to use the same Mood shell to furnish the dining room and the office corner. By selecting different colours and options, you will create an atmosphere in each room while retaining a consistent style throughout the home!
We recommend…
The MOOD#91 M13, without armrests, with an A01 black metal base and the smooth dark blue Bogota Marine fabric to create a night-time atmosphere.
The MOOD#96 M13, to combine all the best features in the collection. An idea for a great combination: the textured Scala Orange fabric and an A01 black base.
2. Swivelling office chairs
Several of the Moods models are equipped with a 360° rotating mechanism, which returns to its original position when you stand up.
We offer 3 models of rotating bases:
• a wooden base in a style inspired by Scandinavian design reminiscent of adjustable stools
• a metal base in a "spider's legs" arrangement which can be customized in various colours, for a more contemporary touch
• a new wooden base in a "spider's legs" configuration starting at the centre and moving outwards, a very trendy type of base
We recommend…
The MOOD#91 M03, with its Genova Ecru velvet shell without armrests and its E25 oak base. Ideal for creating a very warm atmosphere!
The MOOD#101 M10, with the A12 swivelling metal base in anthracite grey and the shell with armrests upholstered with the Togo Anthracite aniline leather. This "tone-in-tone" combination is very elegant and gives it a luxurious appearance.
3. Very comfortable shells
Looking for optimal back support? Opt for a model with a curved or molded shell!
The Mood#95 and Mood#91 shells are curved to ensure that they follow the natural curve of the back as much as possible. The height of the backrest makes it possible to effortlessly maintain a straight back while seated.
The Mood#101 and Mood#100 shells are made by injecting foam into a mold. This technique makes it possible to give them their specific, very enveloping and comfortable shape.
We recommend…
The MOOD#101 M03, if you prefer a very decorative shell with a piping. In this model, the fairly smooth Orlando Silver fabric is combined with an Orlando Taupe piping and an E11 oak base to create a modern chair whose look is inspired by Scandinavian design.
The MOOD#95 M07, with its velvet Genova Rost shell and an A01 black metal base to play with rust-coloured tones, one of this year's colour trends.
4. Moods + Cushion = even more comfort
If you like the curved shape of the Mood#91 and Mood#95 shell but are looking for even more comfort, the Mood#92 and Mood#96 models are the ones for you!
They comprise the same shell with a padded cushion offering soft and comfortable seating.
Please note, this is not an ordinary cushion, it is a cushion tailored specifically to the selected shell! The cushion is attached to the chair using snap fasteners. Once attached, it will not move around, but it can be easily removed for cleaning.
A little tip: do not hesitate to buy several cushions to vary the colours and/or materials and change your chair's look!
We recommend…
The MOOD#96 M11, with the texture and slightly glossy Biarritz Black fabric and its new E26 wooden base. Why not add another cushion in the smooth and matt Orlando Black fabric to play with textures? A discreet but original touch.
The MOOD#92 M07, with its shell without armrests and the round-patterned Otello Green fabric combined with a taupe A22 metal base to go with the "Urban Jungle" trend!
But also…
If you are not looking for an office chair with a swivelling mechanism or castors, our catalogue contains a wealth of other possibilities.
As comfort is always our priority when developing new models of chairs, you will not be let down!
The Margaux chairs are more refined with their metal decoration and the possibility they offer of combining two colours and/or materials.
The colourful and vibrant Soft & Soda chairs are a real eye-catcher with their two-tone versions or those with stitching and buttons.
Adults are not the only ones having to "work" from home. The chairs are also perfect for furnishing the bedrooms of children with the most demanding tastes!
The Cosy chairs, for instance, are particularly comfortable.
Their characteristic look with metal crossbars will bring an original and trendy touch to your working space.