Terra table: ceramic trend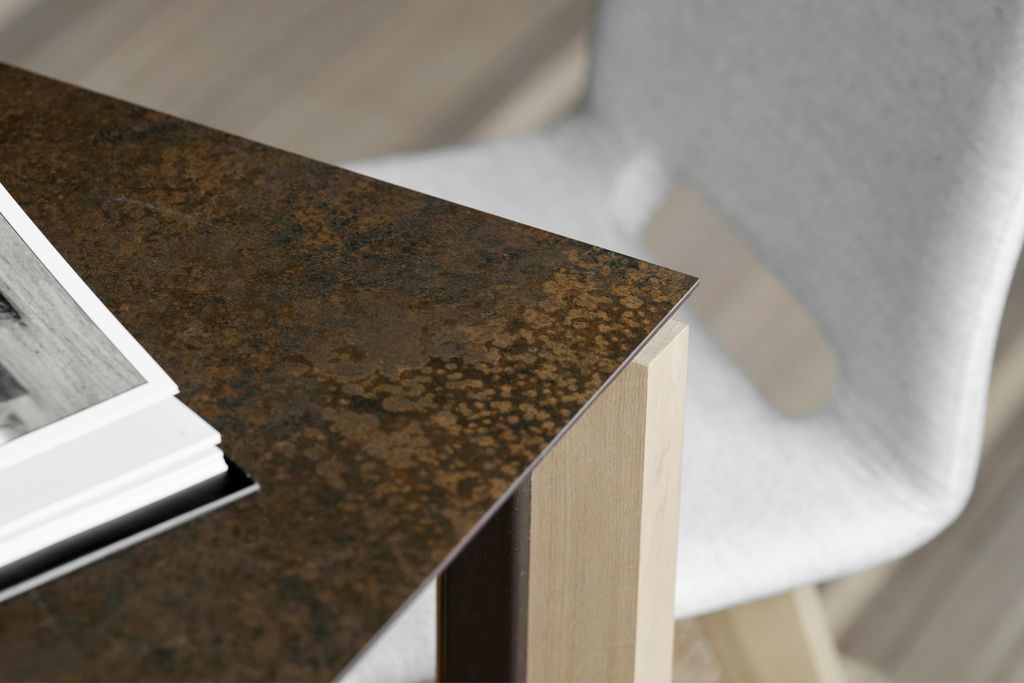 Raw and natural, ceramic is one of the stars of current decoration trends.
Its presence in our interiors is no longer limited to plates, vases or mugs: it now forms an integral part of our furniture too. This is demonstrated by our Terra table, whose top and extension (!) are both made of ceramic.
Ceramics, together with metal or wood, are increasingly used in furniture. Ceramics are particularly prized for their technical properties, and they are mostly sought out for their aesthetic qualities and entirely natural composition.
Beware, however, as not all ceramics are alike. In order to stay on trend, we decided on a rough, matt and structured finish.

The Mobitec ceramic tables
This is not the first time that our designers have created a table with a ceramic top. A few years ago, the release of the Oxford table marked this natural and design material's first incursion into our catalogue. 
What Terra brings to the table is the possibility of enjoying the aesthetics and advantages of ceramics from end to end: not just the top, but also the extension. Proposing a ceramic extension, rather than a wooden extension like the one that can be found on the Oxford table, required considerable research and development work. The result was most certainly worth the effort: by avoiding mixing wood and ceramic on the top, the Terra table offers a uniform appearance when the extension is deployed and responds to real market demand in that regard.
In addition, the Terra's ceramic top is twice as thin as the Oxford's: 3 mm compared to 6 mm! This accentuates its modern look and lightness. 
The extension, which is also made from ceramics, is just as easy to pull out as on a wooden-topped table:
Ceramics: a 100% natural material
"Back to nature!" is Mobitec's motto this year. Our latest trade fair stand was inspired by this very topical desire for a return to nature and authenticity.
This motto applies perfectly to the Terra table. The table top and extension are made of a 100% natural material: ceramics. It is composed of clay, feldspar (a mineral with a lamellar structure) and mineral pigments.
Practical for everyday use
This composition gives it many advantages:
scratch resistance

: ceramics are the most resistant material for a tabletop, making it the preferred choice for families with young children

heat and frost resistant

: you can place a hot pan on your table without worrying about damaging it

uv resistant

: your table will not change colour or heat up when exposed to the sun

easy to clean

: no need for detergent, just water will do!

environmentally-friendly and recyclable

Customize your Terra table
Beyond the practical advantages it offers, the aesthetic appearance of the ceramics is the feature that will first catch your eye. We have selected 8 different types of ceramics for you.
Some textures are more classic, offering a natural and soothing look and feel. Others are more design, aimed at making your table a central element of your interior decoration. 
Our customers also asked for the possibility of combining a ceramic top with all-metal feet. That is why the Terra table is available with 3 variants of feet, 2 of which are metal:
square metal feet
round metal feet
wooden feet with metal decoration
Top tip: if you opt for the metal feet, the side frames are always in the same colour as the feet.
Inspiration book
To guide you in your choice of Terra customization options, here are some ideas for colour and material combinations that work especially well!
Pattern 1 "Fokos Sale"
Cover : Otello Mint, Scala Anthracite, Mango Silver, Genova Ecru
Oak : E26
Metal : A21 Champagne
Pattern 2 "Emperador Extra"
Cover : Togo Walnut, Zanzibar Blue, Zanzibar Ivory
Oak : E28
Metal : A22 Taupe
Pattern 3 "Pietra Di Savoia Grigia"
Cover : Otello Rose, Genova Cognac, Genova Rose
Oak : E26
Metal : A12 Charcoal Grey
Pattern 4 "Ossido Bruno"
Cover : Togo Cognac, Genova Rost, Zanzibar Silver
Oak : E26
Metal : A13 Midnight Brown, A01 Black
Pattern 5 "Bianco Statuario Venato"
Cover : Bogota Blue, Zanzibar Blue, Zanzibar Platine, Orlando Petrol
Oak : E28
Metal : A15 Strucered White, A12 Charcoal Grey
Pattern 6 "Pietra Di Savoia Antracite"
Cover : Capri Beige, Mango Sand, Lomé Olive, Otello Beige
Oak : E10, E26
Metal : A12 Charcoal Grey, A01 Black
Pattern 7 "Bianco Assoluto"
Cover : Mango White, Genova Ecru, Bogota Ivory, Otello Beige, Genova Steel
Walnut : N11
Metal : A15 Strucered White
Pattern 8 "Calce Nero"
Cover : Genova Rost, Mango Cognac, Capri Beige, Capri Coffee
Walnut : N11
Metal : A01 Black, A12 Charcoal Grey