Moods by Mobitec: 3rd generation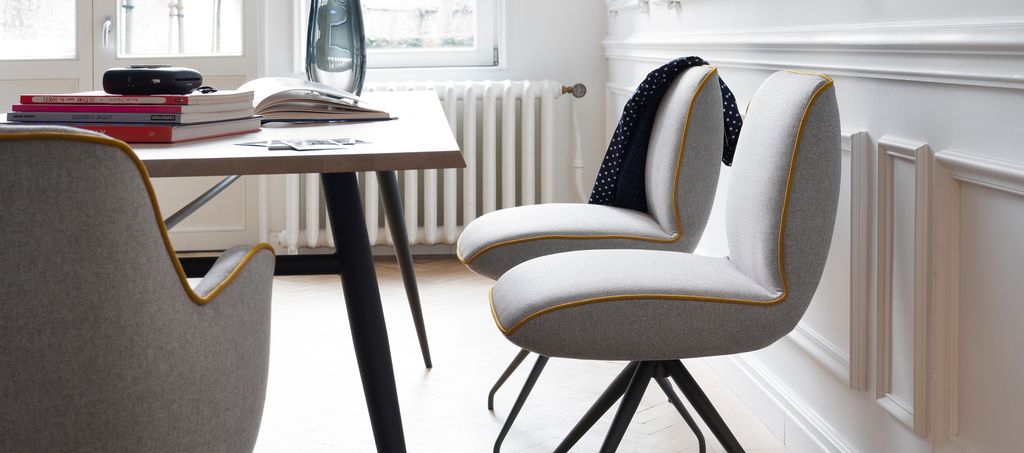 A wind of change is blowing through our iconic Moods collection in 2018!
A little madness, a pinch of impertinence: come with us and discover the 3rd generation of Moods!
Mobitec launched the Moods collection in 2013. Chairs and tables to match your mood and style thanks to infinite possibilities for customisation. This designer and no-frills collection was met with great success and soon became a favourite among individuals and professionals alike.
In 2016, the collection expanded with the arrival of new models offering even more possibilities for customisation: up to 300,000 possible combinations!
And the capricious Moods has not said its last word since it has more surprise in store for 2018!
Moods 2018: the chairs
24 new chairs are joining the Moods'18 collection. Their main distinguishing feature: the shape of the shell.
Dominique Amodei, head of the Design team: "We have developed a custom-made mould into which we can inject foam. This technique enables us to create a perfectly unique shape made up of rounded edges and angles."
3 different finishes are available for the covering:
Single colour
Bicolour
Deco
"We have added a small additional detail to the 'deco' version: the chair's contours are highlighted by piping."
The piping can be the same colour as the covering (tone on tone) or in a different colour. There is one constraint, however: the same family of fabrics must be used for the seat and the piping. You can combine Orlando Silver with Orlando Mustard (see cover) but not with Lyon Gold for instance.
The Moods'18 collection has 4 different versions of bases:
Wooden base
Classic metal base
Fixed central metal base
Swivelling central metal base
Moods 2018: the tables
The Mood #T10 table makes use of geometric and totemic in line with current trends.
It also plays on combinations of materials: wood and metal for the legs. The table top is available in solid wood or Fenix, an innovative material with astounding properties (such as being able to make scratches disappear with an iron!).
Like all other Mobitec tables, the Mood #T10 is also available with an integrated extender system, although not only with the same as its predecessors, but also with a second system:
"We have developed a simpler extender system. The extenders are attached to the underside of the table, on either side. They can be unclipped, unfolded and then attached using a bracket system. The main advantage is that we are able to produce these extenders ourselves, thus reducing costs. Finally, it is possible to only use one of the extenders on its own if the table does not need to be at its full size."
In 2018, Moods will be bidding farewell to…
The arrival of new models means that it is time to make some room in the Moods range.
The Mood#12, Mood#13, Mood#14 and Mood#42 models from the initial Moods range will no longer be produced.
Among the Moods'16 chairs, we will be bidding adieu to the Moods chairs with cushions (#Mood93, #Mood94, #Mood96, #Mood97 and #Mood98).
Want to find out more?
Discover now the complete Moods'18 collection in our online catalogue!
If you are a professional looking to receive our new catalogues, please contact our customer service department.
If you are an individual, you can search for a reseller near you.