XMAS DIY
Festive & illustrated table linen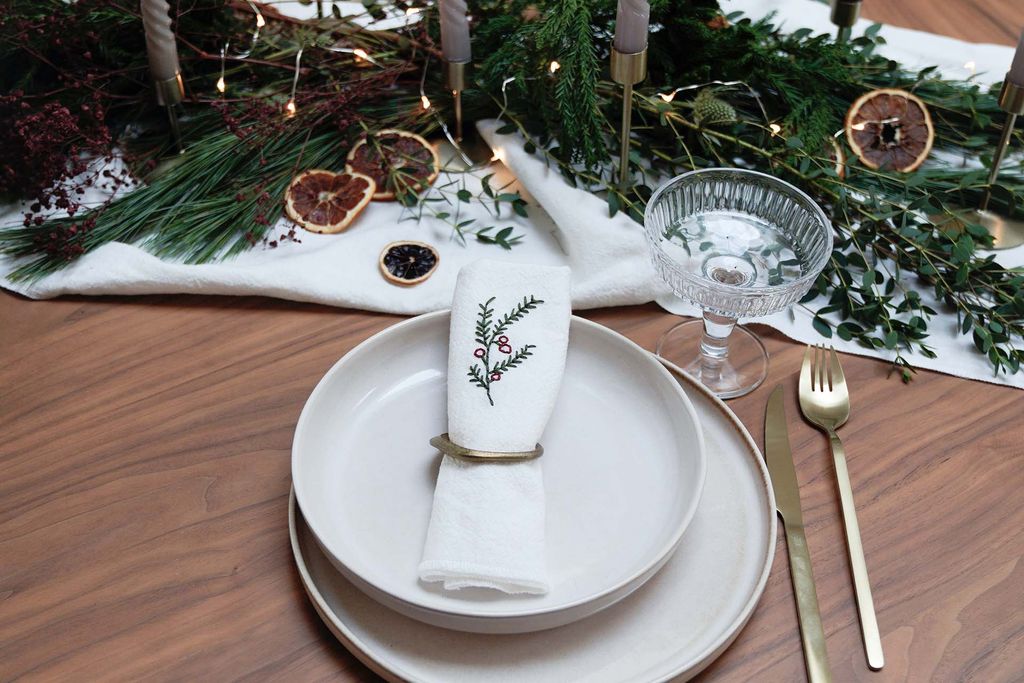 As 2022 comes to a close, with the world once again in chaos, we feel the need to bring some harmony into your home. For a few months now, our creative inspiration sources have been full of embroidered tablecloths. This has inspired us to present you a festive table decoration in this blog and put together a little DIY based on this technique, so that you too can decorate your tables with poetry. The concept behind this trend is to transfer objects onto textiles, first through illustrations and then through embroidery. So the idea is to depict two-dimensional objects on textiles that could find a place on a table: Tableware, flower arrangements, food, etc.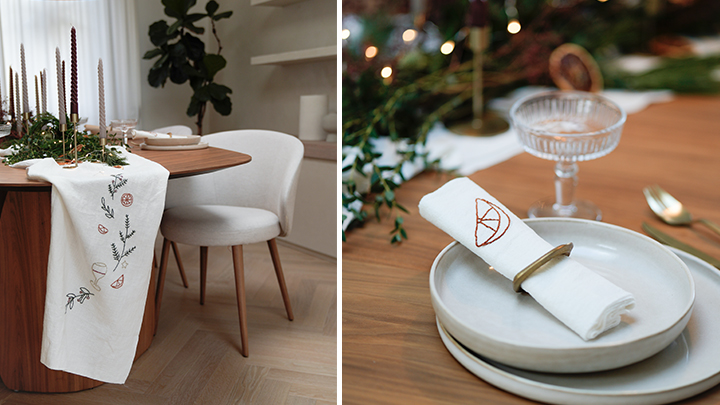 In the following we describe the individual steps to create a table runner. You will see that we have also embellished napkins…. but of course you are free to design all kinds of textiles according to your wishes.  
Let's go! We'll show you how to conjure up more atmosphere and harmony on your festive table in just a few steps.
The material:
White sheet of paper + Tracing paper
1 embroidery needle
Embroidery thread in different colours
An embroidery hoop
The textile(s) of your choice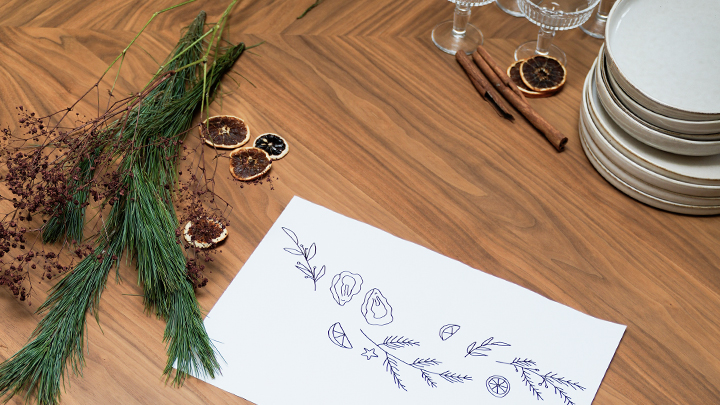 The steps:
Creating the illustration on paper:
Take a pencil, felt-tip pen or marker and let your imagination run wild on the blank sheet of paper. Plates, cutlery, food, glasses, vases with flowers, etc. Anything that fits on a table will do.
Offset your illustration on the tracing paper:
Place your tracing paper on top of your design and iron the different lines that make up the design so that it appears on the transparent support.
Transfer the different patterns onto your textile:
Place the tracing paper face down on the textile and cover the entire design with a pencil on the back of the tracing paper.
Prepare your textile by isolating the first design with your embroidery hoop
Embroider on the lines of your design (stitch)
And so on, until you have embroidered the whole of your illustration.
Click HERE to watch the instructional video.
And now that we have finished creating our table runner, we can create a table decoration around our embroidered textiles.
For our part, we imagined an organic and vegetal decoration by adding a table runner of fir and other plants, dried oranges, many candles in natural colours, ceramic tableware in shades of beige and a few small touches of golden brass.
It's time for your creativity!