Kitchen stools are all the rage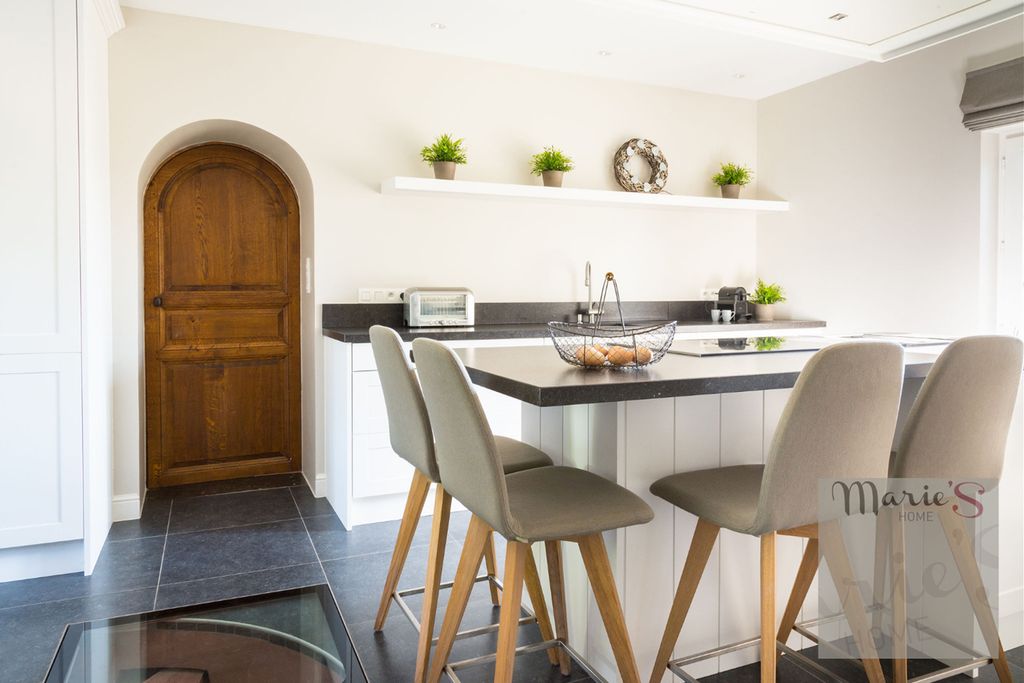 … and Marie Degaute, interior decorator and founder of Marie's Home, would wholeheartedly agree. We asked her for her professional opinion on this must-have for our open-plan kitchens.
High chairs have become to our kitchens what the sofa is to our living room: a must-have item of furniture! Once only seen in restaurants and bars, the kitchen stool has made its way into our homes.
To answer any questions you may have on the subject, we contacted Marie Degaute, founder of Marie's Home. With 20 years' experience in the field of interior decoration, she assists individuals and professionals in reorganising and decorating their spaces. When it comes to seating, it's very simple: she only works with Mobitec. "I'm a fan!", she says with no hesitation. As for kitchen stools, they are a piece of furniture that she particularly values: "Compared to standard chairs, I find high chairs sleeker and more streamlined."
With that introduction, let's get down to business!
How did the kitchen stool conquer our homes?
"Opening up spaces was the triggering factor", Marie Degaute answers without hesitation. "The kitchen now forms an integral part of our living spaces. Today, we no longer really entertain in a living room or a separate dining room. We welcome our guests directly in the place where we cook".
These new habits have led to new items of furniture being developed. More and more kitchens are fitted with an island, which is often multi-functional. It can be used as a work surface, storage space and… as a bar or high table to enjoy a drink or even a meal. And this is where the kitchen stool comes in, as it allows you to sit around a higher space than a traditional table.
What size for a high chair?
There is a formula for calculating the right seat height. Marie Degaute: "Take the height of the table and deduct 30 centimetres. So, for an island at a height of about 90 cm, you will need a seat around the 60 cm mark. Note that if you cover your island with a thick wooden top, for example, you will have to take the extra height into account and you may not necessarily end up with a standard seat size."
At Mobitec, two sizes of kitchen stools are available: 62 cm and 82 cm. "In residential settings, 62 cm high chairs are more likely to be chosen," notes Marie Degaute. "Because of the height of the islands, but also because it is easier to sit comfortably on them. The 82 cm stools are very high for children or older people. With a height of 62 cm, you can put your feet on the floor. Having seats that are too high and shelves and furniture at a height designed to match them tends to cut off the space visually," she adds.
Choosing the right model
How do you choose the right kitchen stool? "First of all, think about your comfort and that of your guests. You will not necessarily select the same model depending on the use you plan to make of it. If you want to have a drink, you can opt for a simple stool without a backrest. If you are going to use those seats to have your meals, a model with a backrest and footrest will be more comfortable," advises Marie Degaute.
When it comes to customisation, anything is possible. "Let your taste and the style of your interior guide you. Metal legs are generally thinner and more discreet. However, wooden legs have their own charm too!"
Matching kitchen stools and dining chairs
When it comes to colours and materials, the important thing is to keep a certain consistency with the other elements in your room, according to Marie Degaute. "The Mobitec collections offer you a range of possibilities: you can choose your dining room chairs and kitchen stools from the same family of seats and opt for different coverings and colours to create variety. You can also combine two different collections and ensure consistency by opting for the same covering. Personally, I like to cover the seats in a single colour, but in different types of fabric to play with the textures."
A little inspiration…
Lena
Always with wooden legs and a metal footrest, the Lena kitchen stool has a backrest and a seat that provides proper lumbar support.
Moods
The choice is yours! Models without armrests, with armrests, with square or circular footrest and even swivel models like MOOD#91.
Pamp
If you are looking for very slim metal legs, Pamp could be just what you need.
Rob
Straight wooden legs, a seat with a backrest, and a metal footrest: these are the essential features of the Rob high chairs.
Soft & Soda
Looking for a comfortable stool without a backrest? The Soft & Soda stools with their rounded seat and metal footrest are good candidates. And they are also available in a two-tone version.
All our high chairs and bar stools
Discover the creations of Marie's Home
Want to find out more about Marie Degaute's work? Visit her website or follow her on Facebook.
If you are passionate about interior decoration, you will be glad to know that she also gives training courses!