BOLERO : small armchairs, maximum effect!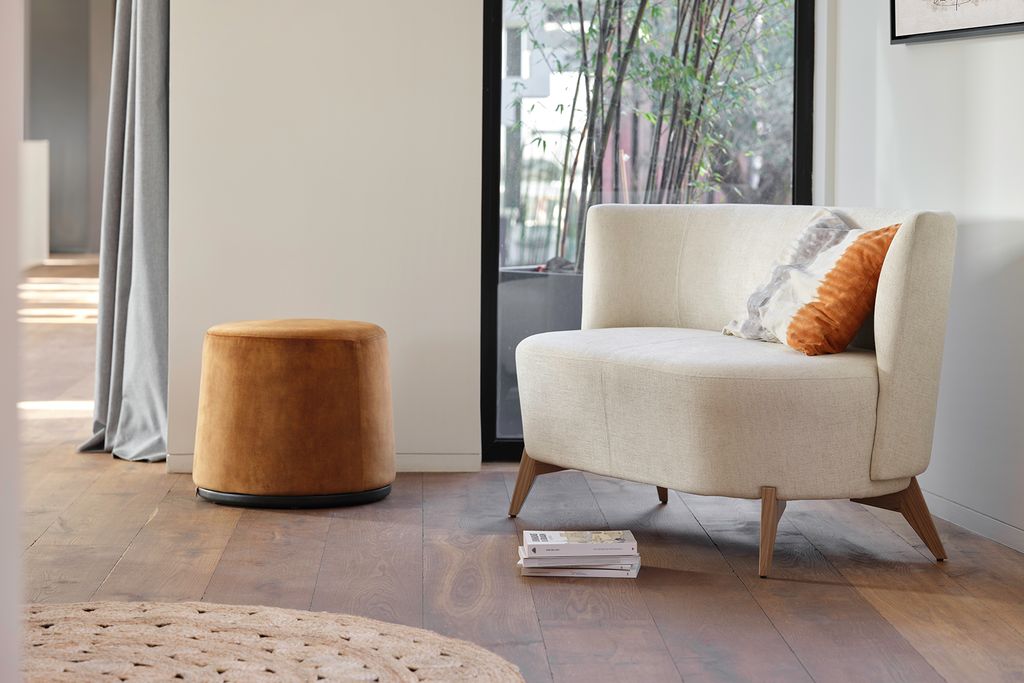 Have you already met Bolero, our new collection of small armchairs, benches and ottomans?
These colourful, versatile and comfortable seats have more than one trick up their sleeves to beautifully furnish spaces, whether private or professional.
Is Bolero giving you a feeling of déjà vu? That is only natural since it is actually a remake of our Cheese collection, which is very popular with our professional customers.
Like it, the Bolero collection is a true all-rounder. In other words, these comfortable and colourful seats can be placed wherever you need them: in a bedroom as well as in a waiting room, in a living room as well as in a lounge area…
In addition to their functional nature, the Bolero seats are perfect for punctuating a space with a touch of colour, giving it its final touch, or even accessorising it.
The Bolero concept
Let's start by making the introductions. In the Bolero collection, you will find:
armchairs with classic backrest or high backrest
two-seater benches
two variants of a one-seater ottoman
a two-seater ottoman
In terms of look, the Bolero collection explores the theme of generous curves: curved backrests, round bases, etc. This enveloping side makes the Bolero seats particularly comfortable, even over long periods of time. 
Customize your Bolero seat
The Bolero armchairs and benches are available with 3 different types of feet:
a base resting directly on the floor, which swivels through 180° for the armchairs (made of black-tinted multiplex for the swivelling versions) and remains static for the benches;
metal feet, customizable in different colours as always
wooden feet, also available in various wood species and finishes
In addition, the Bolero seats are compatible with our full range of coverings: fabric, imitation leather and leather.
Good to know for our professional customers…
On request and subject to a minimum order, the Bolero armchairs and benches can be produced in a two-tone version: one colour for the seat, another colour for the backrest.
Bolero fits in everywhere!
In the home…
In the bedroom (yours or the children's), in armchair or ottoman versions. Bolero brings an extra decorative touch (don't hesitate to play with colours) and is also very practical for reading the evening story or getting dressed.
In the living room, in ottoman or armchair versions, to complement your sofa. Convenient for entertaining children or for aperitifs with friends!
In a corridor or entrance hall, in armchair, bench or ottoman versions. For dressing up a space without cluttering it up and to easily put on your shoes when you go out!
In a professional space…
In a waiting room, in armchair, ottoman or bench versions. Enables your customers or patients to wait for their appointment in the utmost comfort.
In a lounge area, in armchair, ottoman, seat or bench versions… Do not hesitate to combine several types of seating to make your space more dynamic.
In a hotel room, in armchair or ottoman versions. Bolero seats take up little space, provide your guests with a comfortable extra seat and bring colour to your room…
In the fitting rooms of a shop, the ottoman version inside or the bench version in front of the fitting rooms.
Inspiration book

Children's bedroom
Cover : Biarritz Blue & Biarritz Aqua
Wood : E26 Oak
Alternative covers : Otello Mint, Mango Jade, Otello Beige, Bogota Blue
Living room
Cover : Scala Steel
Metal : A21 Champagne
Wood : E26 Oak
Alternative covers : Zanzibar Blue, Otello Beige, Mango Cognac
Parent's bedroom
Cover : Genova Rost
Metal : A01 Black
Alternative covers : Scala Orange, Togo Brown, Genova Rose
Entrance hall
Cover : Zanzibar Ivory
Wood : N11 Walnut
Alternative covers : Genova Cognac, Mango Cognac, Bogota Ivory
Living room
Cover : Genova Green
Wood : E28 Oak
Alternative covers : Lome Olive, Genova Forest, Bogota Ivory