Mobitec invites itself into KAA Gent's locker room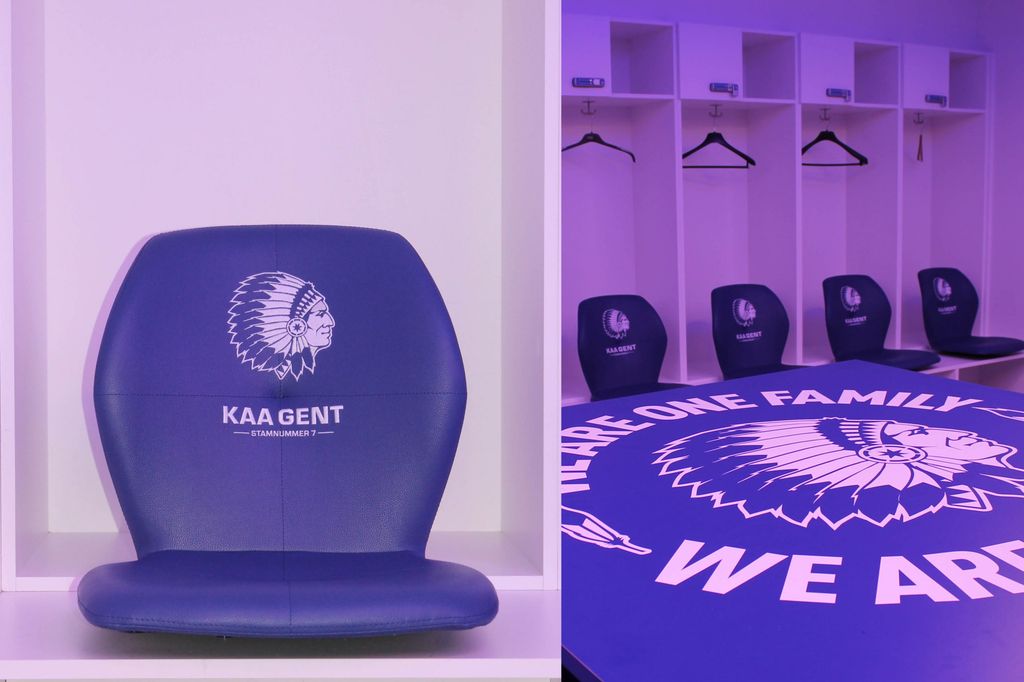 Did you know? At half time, the Buffalos can blow off steam and centre themselves on their comfortable custom Moods seat shells, right in their locker room!
This project perfectly embodies Mobitec's motto as regards requests for custom projects: "(Nearly) Everything is possible!"
A special request
It all started with a special request from our partner De Compagnie : deliver 30 Mood#91 shells, covered with the Gingko imitation leather embroidered with the KAA Gent logo: the famous Buffalo Ben.
Michael Herné, who is in charge of our customers' special requests, recalls this order fondly: "At first, we thought that these shells would be placed in a VIP area."
The request, which seemed fairly simple at first blush, nevertheless comprised a technical difficulty: "There is a small recess on the front of the backrest of the Mood#91. And that is exactly where the logo had to be embroidered."
Back to the drawing board…
In order to enable the embroiderer to carry out the requested work, Pierre Wegnez, one of our designers, drew up a custom plan and draft. The logo had to be positioned with the greatest degree of precision in order to avoid any unsightly bumps in the embroidery.
The imitation leather selected was cut into several pieces and sent to the embroiderer. Upon completion, those pieces were re-assembled onto the seat shells in our workshops in Poland.
…and straight to the locker room
It wasn't until several weeks after this particular order had been completed and shipped that Michael saw on KAA Gent's Instagram account that the Moods shells were not placed in a VIP area, but even in the players' actual locker room!
Some time later, at the KAA Gent Fan Day, Michael was able to admire the result with his own eyes. Joana Sarlette, from the Marketing team, was also present: "Even though I am not really a football fan, it was a great experience! The changing rooms really exude a calming atmosphere with its purple and bluish tones. Every effort has been made to help the players concentrate".
While visiting the VIP area, our colleagues were also surprised to find another model of Mobitec chair: the Bastia on castors. A perfect chair for enjoying a breath-taking view of the playing field while comfortably seated!
A custom project?
This project is just one of the many custom orders that Mobitec has created for professionals in recent years.
Want to find out more? Discover other Mobitec projects.
If you have a project or a special request for us, do not hesitate to contact us.