Let's meet Nicolas Briand, sales manager at Mobitec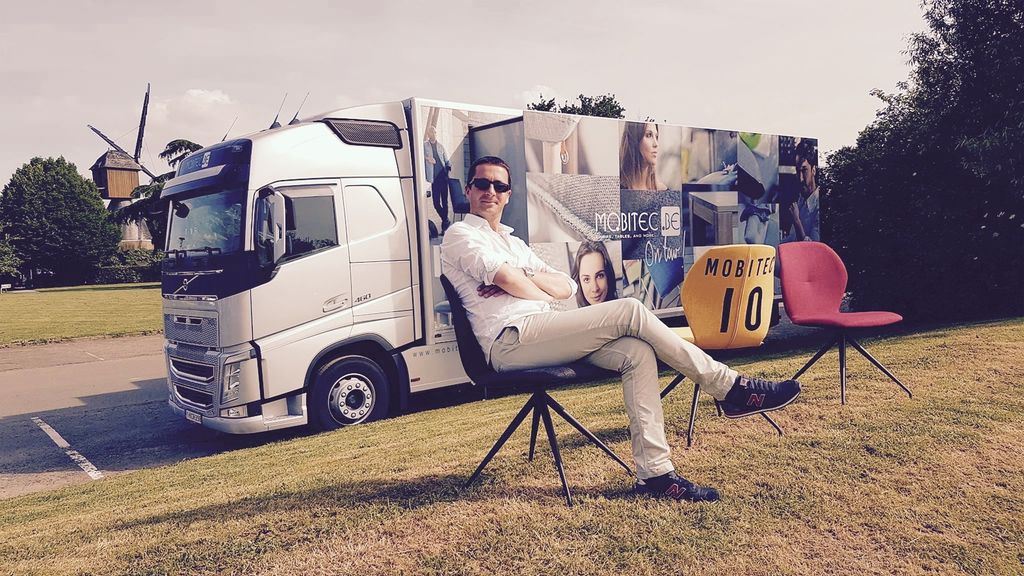 Sales manager for the «Great West» region in France, Nicolas works hundreds of miles away from Mobitec headquarters!
Between two appointments with customers, we asked this decoration enthusiast, musician in his free time, to describe his daily life a bit…
Nicolas Briand
Training: sales representative
Joined Mobitec: 2012
Market: Brittany, Normandy and Pays de la Loire
Best sold products: Moods et Soft&Soda
Nicolas Briand has his «office» in the Gulf of Morbihan, not far from Vannes, in Brittany. «In fact, my office, is the big table in my dining room!» he quips. That's because Nicolas is on the road most of the time. «I have an itinerant job,» he explains. «I am sales manager for the small north-west region of France: Brittany, Normandy and the Pays de la Loire.»
Working 800 km from the office
More than 800 kilometres separate Nicolas from his colleagues at Mobitec headquarters. Yet his job is far from depriving him from human contact. «I work alone, it's true, but my mission puts me in constant contact with the customers of Mobitec: the furniture stores, but also «contract» customers, in charge of furbishing a hotel or a restaurant, for instance.»
And Nicolas has no time to get bored because the furniture market is very dynamic on his territory: «It's a very densely populated region where are quite a few second residences too. So there are many furniture stores, in all styles, from traditional to design.» And with its miles of coastlines, the region is very touristy, which means many projects for hotels, restaurants, and the like – opportunities for Mobitec all!
More than just sales
For Nicolas, no week is the same, so his work is far from monotonous. «What I like at Mobitec, is that we do not just focus on hard line selling,» he explains. «A sales representative has a real task to advise and guide the customer. Our aim is for everyone to find the products that suit them. So we have stores among our retail customers that sell what we call «the spirit of charm» – traditional, classic furniture. It's obvious we are not going to sell them Moods products, which we will earmark for a more contemporary point of sale.»
Furthermore, Nicolas takes the time to advise customers about the finishing work on the products: «It's a facet of my job which gives me great satisfaction. I have an opportunity to work on the decorative aspect of the products, to select, with the customer, the finishes and materials that will really fit with the ambiance and mood he wants to convey.»
Finally, Nicolas is in charge of «training» and informing the sales staff of stores about Mobitec products so that they are always up to date on the latest developments and all options available on the products.
Quality required: autonomy
Not too complicated to work so far from one's colleagues? «Even if I am physically far away, I am in contact with my colleagues daily by telephone or e-mail. But it is true that you have to have a knack for working on your own: I have no secretary, I post my mail myself… In short, I manage all aspects of my work on my own.»
And then, Nicolas is lucky to live in a magnificent region! «I like to stroll by the seashore in my free time,» he explains. «To make my colleagues in the deep hinterlands of Eupen jealous,» he jokes. Nicolas is also an amateur musician: he plays the trumpet in and is the director of music of an orchestra. «A nice way to spend my weekends,» he concludes.