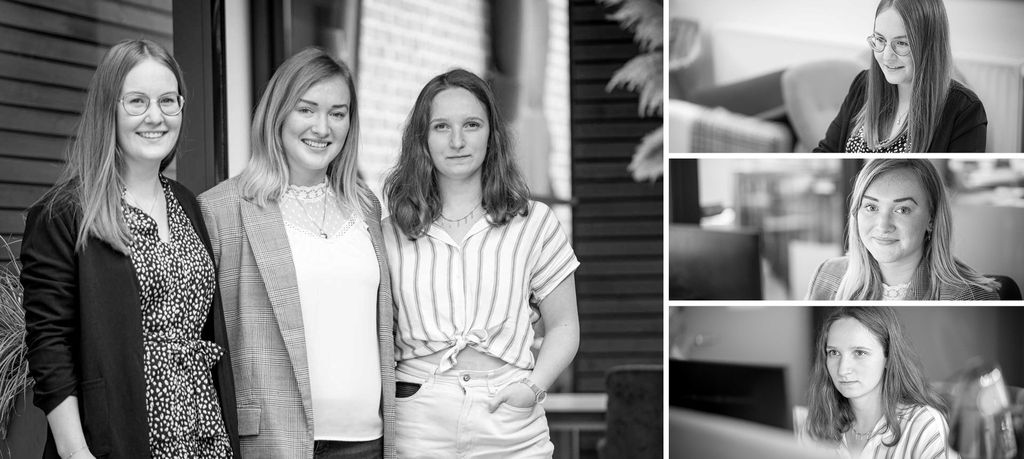 Their names are Jana, Maurine and Vanessa. What do they have in common? They have just graduated and got their first job at Mobitec! Here's a quick look at these three new faces at Mobitec.
Jana, 23, was only supposed to spend 3 months at Mobitec for an internship in the Design department. "During my internship, I heard that Mobitec wanted to strengthen the Design team, preferably with a woman. I jumped at the chance!", she explained.
Vanessa, 22, is Romanian. She came to Belgium to move in with her boyfriend. After graduating in Computer Science in September, she heard that Mobitec was looking for an IT profile. "I couldn't have come at a better time!" she said with a big smile.
Maurine, 20, had applied to join Mobitec's after-sales department but was initially not selected. Then, in mid-February, she was called back: "It was my language skills that made the difference," she explained, delighted.
Three faces, three career paths, three unique personalities that we gathered around a table for an informal chat.
What does your job at Mobitec involve?
Jana: I'm still learning the ropes, so for the time being I'm doing a bit of everything in the Design department, depending on what's needed. However, I'll be designing trade fair stands from September onwards. And I'll also be designing furniture, of course!
Maurine: I work in the after-sales department and process complaints. I'm specifically responsible for the Benelux countries and France.
Vanessa: The IT department is currently developing a Customer Portal: an online space where customers can track their orders, deliveries, etc. I'm mainly working on this big project at this time.
How did your first few weeks go? What is the atmosphere like at Mobitec?
Jana: When I started my internship at Mobitec, we were still under a number of restrictions due to the COVID-19 pandemic. What struck me was that the working atmosphere was already super friendly despite the circumstances. I thought that if it was like that in these circumstances, it must be even warmer in normal times!
Maurine: I felt the same way! I'm usually rather reserved, but right from my first day, everyone came to meet me. We all have lunch together, we share a drink on Fridays… I was made to feel very welcome straight away! Mobitec's raison d'être is to create moments of well-being. You could say that well-being already starts within the company.
Vanessa: It went better than I expected! I don't speak French or German, so I was a bit apprehensive, but I was made to feel welcome. People spoke to me in English right from the start. My manager really helped me find my bearings and supports me any way they can.
What do you consider to be Mobitec's strength?
Jana: First and foremost, I would say the product customisation options. There are a lot of possibilities, even if you limit yourself to one model of seat or table. We also stand out from the competition for the level of comfort we offer and our ability to innovate.
Maurine: For me, it's the close contact with the customer. Let's take the example of the after-sales service: it's not a big call-centre but two people who know the customers and their needs personally.
Vanessa: Mobitec is a European company offering products made in Europe. Today, a lot of the furniture we are sold is produced on the other side of the world using materials whose origin is unknown. In addition, I think that the friendly side of Mobitec shines through and people like that.
Finally, do you have a favourite Mobitec product or collection?
Jana: The Lena chair, without armrests. I like the rounded, enveloping backrest. As for the tables, I particularly like the oval version of the Eclipse.
Maurine: I don't have an office chair yet so I'm currently working on a Mood95. I can confirm that it is very comfortable as I spend several hours on it every day! I also really like the Core table with metal legs.
Vanessa: I like the Rob chair with armrests which is very simple and elegant and at the same time comfortable and modern. And for the tables, I would say without hesitation the Goa with the natural wood top to bring a touch of nature into the house.