From childhood friends to colleagues at Mobitec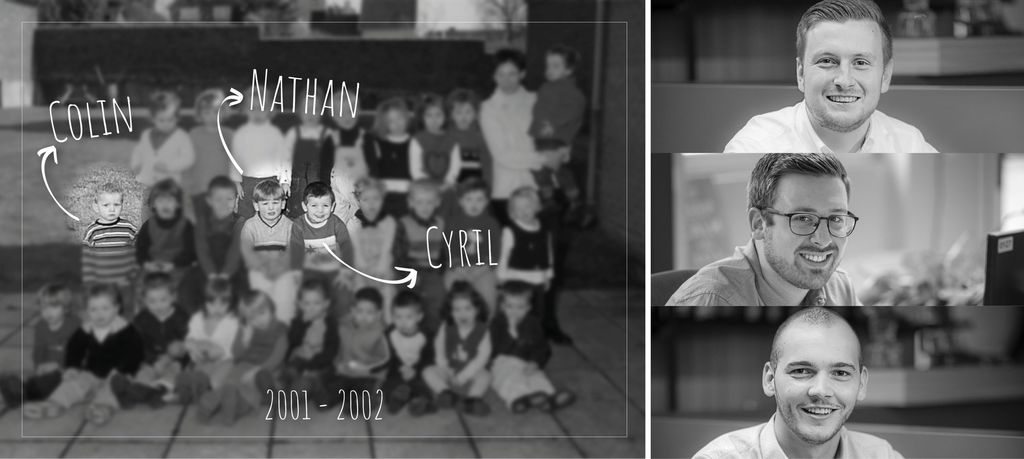 They grew up in the same village, sat at neighbouring desks at school, played football together and helped organise the same carnival. Today, they are colleagues and carpool to work. Meet Nathan, Colin and Cyril, the happy trio from Mobitec!
It all started two years ago with Cyril and an ad in the local newspaper. "I was still studying when I saw that Mobitec was looking for someone to strengthen its public sales team. I had always been interested in interior design so I jumped at the chance, despite the fact that I was going to Ireland for an internship. I interviewed via Teams from Dublin and finally started in August 2019," he recalls.
Cyril's mission? Preparing offers and orders relating to Mobitec tables and chairs for the public sector. He deals more specifically with the French and English-speaking markets: "I draw up offers and prepare orders. Our department is one of the first points of contact for customers."
From Cyril to Colin
Colin has known Cyril all his life: they grew up in the same village of Gemmenich. "Like him, I studied foreign trade, but one year behind him as I am a year younger. One day, as a joke, I told him that he should keep me posted if ever there was a vacancy at Mobitec," Colin recalls.
And that is exactly what happened! In August 2020, Colin joined his friend. He is the point of contact for customers in the Netherlands, Flanders, Austria and the German-speaking part of northern Italy.
"I joined Mobitec in the midst of the COVID-19 crisis, but that didn't stop me from feeling welcome, quite the contrary! In fact, I was invited to their traditional summer BBQ even before my first day", he remarks.
From Colin to Nathan
The trio's latest addition to the company, Nathan has joined Mobitec's Logistics and Production department. He plans the delivery routes in the Benelux and France. "I was working as a temp in a transport company. It was Colin who informed me of a vacancy in Mobitec's Logistics department," says Nathan. Like Colin, he immediately felt at home at Mobitec: "It's a world of difference compared to my previous job. Here, the team is very important. It's like a big family".
Cyril adds: "It's the kind of job you're happy to get up for in the morning. There's a great atmosphere and we offer really high-quality products. It's so much easier to get the right message across when you believe in what you're selling".
Favourite products
Let's talk about the products! What are the trio's favourites?
Nathan: "For me, it's the Bolero armchair. I find it so attractive that I think it will be my first piece of Mobitec furniture. It's already on my shopping list for when I get my own place. I especially love the wooden leg version".
Cyril: "My preference goes to the Amazone table with its sturdy appearance and its crude metal legs which give it an almost industrial style. The position of the legs allows many people to sit around the table. I like this convivial aspect. As far as chairs are concerned, I would say the Mood#95. The customisation possibilities are just incredible. In fact, I just ordered some for my home".
Colin: "I love the new Tribu collection. It's a table that you can work on and at the same time it can be a restaurant or dining room table. It's a very recent collection, but I hope it will be successful! As far as seating is concerned, I have a soft spot for the Bolero armchairs, which I find both very stylish and sturdy".