Leather or imitation leather? Which cover to choose?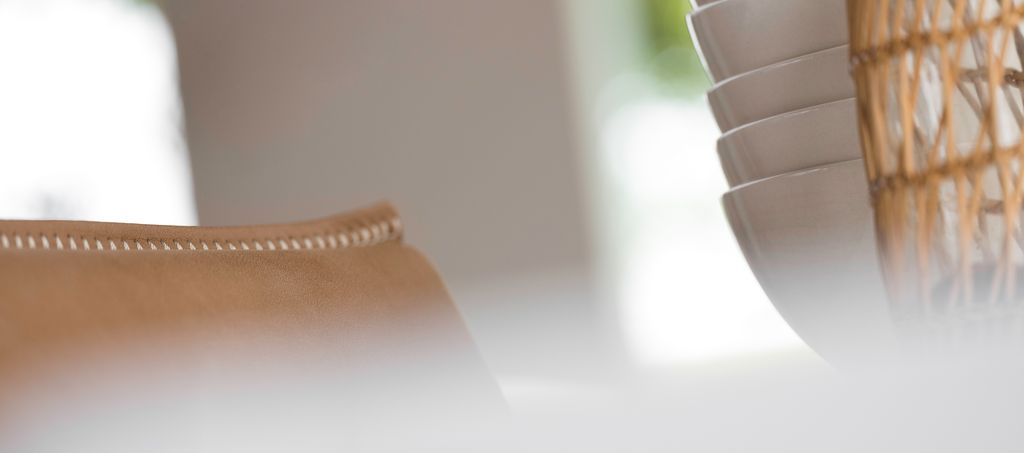 Several criteria come into play when choosing a chair. In addition to the shape, size and colour, the cover material deserves attention.
Models in fabric are very widespread, but leather or imitation leather is an altogether possible option. What are the particular traits of each as well as their advantages and disadvantages? Check our recap to make the right decision.
How can you distinguish leather from imitation leather?
Leather and imitation leather may well appear identical at times, but they have some differences nonetheless. Imitation leather is thinner to the touch, whereas leather is at least 1.1 mm thick. As to appearance, if you note that the grain is too smooth and regular, and the surface of the material a little too glossy, chances are that it is imitation leather. That said, lambskin leather may have these same characteristics.
Finally, leather has tiny pores and a very recognisable smell when new.
Advantages of leather and imitation leather
Leather is resistant to wear and acquires a patina over time. This noble material therefore confers more character on the seat. It has a useful life of several dozen years, depending on its quality and maintenance. Its firm and warm appearance helps make it comfortable. Better still, the choice of colours of leather is becoming increasingly more varied over time.
The major advantage of imitation leather on the other hand is its far lower price, comparable to that of a fabric.
Maintenance of the cover
Regular maintenance is indispensable to enjoying a leather cover for a long time. To that end, make sure you use special products which are generally higher priced than traditional ones. A lack of maintenance will cause the surface of the leather to deteriorate. Bear in mind that the surface is sensitive to scratches and the claws of pets.
Imitation leather turns out to be simpler to maintain. It suffices to clean it with a rag and slightly soapy water, then rinse with a damp cloth. If you detect any spots, run over the surface with a swab soaked in makeup remover.
Criteria to take into account before choosing
The colour of leather may be superficial or dyed in the mass. In the latter case, the material has been dyed in depth and uniformly, which makes the colour more resistant. When choosing a seat cover, pay attention to the finishing, stitches and lines.
Whether you prefer a leather or imitation leather cover for your chairs, with Mobitec you can rest assured of the quality and comfort. Discover our collections!