5 reasons to like our new website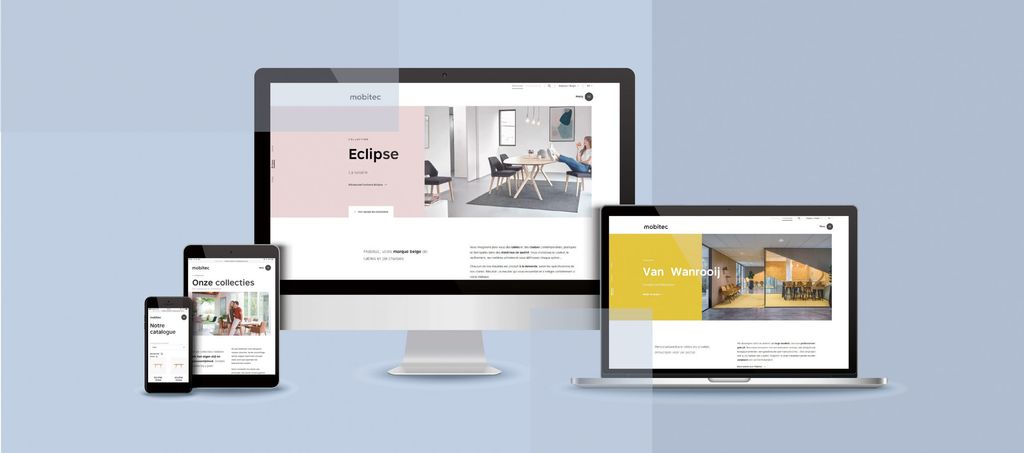 Mobitec's website has been revamped!
New design, new structure, new pages: here is a short overview of the features that will quickly make you forget our old website…
1. A world of your own
Because you will not have the same needs depending on whether you are looking to refurbish your kitchen or open a restaurant, we have split Mobitec's website into two separate worlds:
• Individuals: get inspired, browse our catalogue by type of product or by collection and discover who we are. This space is intended for individuals and our Retail customers.
• Professionals: discover our Contract customers' furnishing projects, browse our catalogue by industry (hospitality, offices, healthcare, etc.) and discover how Mobitec can help you to furnish a professional or public space.
2. Maximum inspiration
Whether you are looking for furniture for your new dining room or you are responsible for furnishing a new hotel, Mobitec's new website is a source of inspiration.
In the "Individuals" space, you can browse our products by collection and discover those whose design and personality best suit you. A wealth of photos and comments from our designers will help you to refine your selection.
In the "Professionals" space, examples of design projects in various industries (hospitality, offices, healthcare, etc.) enable you to visualise the possible layouts with the Mobitec collections.
3. Customisation tools
Mobitec's strength is undoubtedly hyper-customisation. All of our products are made to order and are therefore made based on your requirements.
You may have already used our 3D customiser to customise your chair. The tool now offers a 360° visualisation feature and is available for tables. It will enable you to explore all possibilities before making your selection!
In addition, you can find explanations about the available customisation options on a dedicated page, with videos.
4. More possibilities to explore
Over the years, Mobitec has developed an increasingly wide range of tables and chairs.
Via the homepage of the "Individuals" space, you can discover all the types of products available:
• seats: chairs, armchairs, high chairs, ottomans and covers;
• tables: tables with wood, ceramic, Fenix NTM or HPL tabletops.
5. More transparency
From our manufacturing process to the composition of your chair, our new website is intended to be as comprehensive and clear as possible. You will learn more about our company in pictures.