Mobitec returns to trade fairs and shows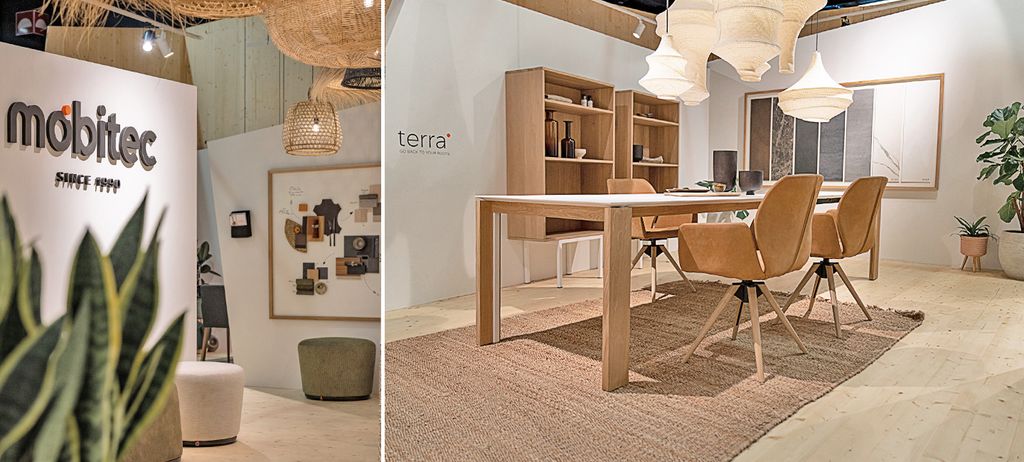 After successive cancellations due to the health crisis, we are delighted to be returning to the many trade fairs and shows to meet you! Here is an overview of the events in which Mobitec will be participating in the coming months.
Milan Furniture Fair, Maison&Objet in Paris: in early September, these first events signalled the return of major events in the furniture and design sector. Although Mobitec did not participate as an exhibitor, some of our colleagues went to the fairs to gather inspiration and discover new trends.
In a few weeks' time, we will be presenting our new products and meeting our customers at trade fairs in Belgium, the Netherlands and Germany. Want to meet us there? Here is an overview of the events you should make a note of in your diary.
Please have a seat
When? 15 October to 14 November 2021
Where? Courtrai (Belgium)
Website: https://interieur.be/please-have-a-seat/
This brand-new event is the successor to Interieur Kortrijk, the international biennial for interior design. What makes it special? More than 200 chairs and seats from contemporary brands will be on display.
Rather than using the usual stands, the organisers have decided to present the products in a single space, like a gallery. QR codes will enable visitors to obtain information on the products on display.
We will be exhibiting three Moods, two Toro chairs and one Rob seat.
Design District
When? 3 November to 5 November 2021
Where? Rotterdam (The Netherlands)
Website: https://designdistrict.nl/en/
This will be Mobitec's third time taking part in the trade fair, which is being held in the original setting of the Van Nelle factory, a UNESCO World Heritage Site.
Mobitec's products are perfectly suited to this event, which focuses on contemporary furniture. However, given the limited space, we will only be presenting a limited selection of products.
Brussels Furniture Fair
When? 7 November to 10 November 2021
Where? Brussels
Website: https://www.salondumeuble.be
The Brussels Furniture Fair will mark the return of the Mobitec stand and will offer the first look at the new products for 2022!
This year, we have asked Brussels-based artist [Jehanne Hupin](https://jehannehupin.com/fr/]) to work with us on a brand-new stand concept. She did a photo shoot, created mobiles, bas-reliefs, and more. All of this was based on the concept of the line, a recurring theme in all her work.
As for the new items, you will discover a brand-new collection of chairs with a very original and modern silhouette, new items in the Bolero family and a brand-new atypical table. We can't tell you any more just yet – wait and see!
IMM 2022
When? 17 January to 23 January 2022
Where? Cologne (Germany)
Website: https://www.imm-cologne.com/
We will also be in Cologne with our stand and our new collections, in an even bigger space!
In order to allow visitors to fully enjoy the facilities, an office area will be set up alongside the stand for meetings with our sales team.
Orgatec 2022
When? 25 October to 29 October 2022
Where? Cologne (Germany)
Website: https://www.orgatec.com
It's still a long way off, of course, but if you work in the public sector, this event will undoubtedly be on your agenda! Mobitec will be presenting the Tribu table and all its variants designed for furnishing offices and meeting spaces.