Setting up a reading corner: 3 styles for greater cosiness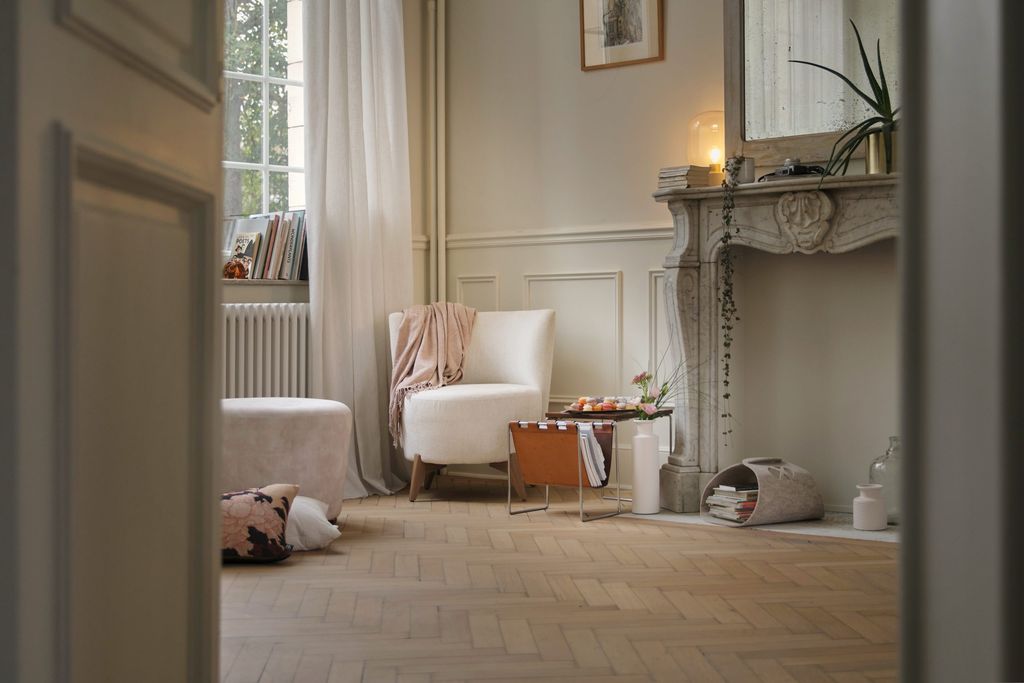 Booklovers will appreciate decent seating and a cosy atmosphere.
Is there anything better than snuggling up in an armchair on a cold, grey autumn day with a cup of hot tea in one hand and a really good book in the other and letting the world go by? Hardly.
We have collected a few tips for furnishing your perfect reading corner so that you can bask in this feeling for hours on end. Which style do you like best?
1. Urban Jungle
Delicate greige and mint tones will bring nature inside your own four walls – for a consummate sense of wellbeing. The contrasting colours are ideal for a large living room or to complement the sofa corner.
They are lively enough to confer character to the reading corner yet sufficiently neutral not to turn you into the absolute highlight of the room.
These decorative elements are suitable:
Discrete green tones (primarily mint green):
Curtains, wall paint, a soft blanket
Botanic decorations:
Plants, eucalyptus branches, jungle prints, dried flowers in a picture frame
Berber carpet:
For a cosy atmosphere ( and against cold feet 😉 )
Furniture:
Black, grey-beige, white or wood colours, such as a black metal shelf
Matching lamps and candles:
in dark grey or mint green.
Mobitec's trend tip: Viennese wickerwork
particularly suitable for autumn because of it's warm look
brings a bit of nature into the house
as boxes, baskets or small furniture
---
Our Mobitec selection:
Enora, the armchair with fabric cover in "Othello Anthracite" and a black metal frame (A01 Black) takes seating comfort to the next level. The high backrest, ultra-soft seat upholstery made of nosag springs and foam, and the firm support leg make it a stylish companion.
A great addition is the Bolero, an ottoman with fabric cover in "Berry Anthracite" that can be used as a footrest, table or extra seat.
Compact, light and made of walnut, the Pamp side table (N11) will always find its rightful place next to you.
2. Modern romance
Light, bright beige tones in different structures make this reading corner style perfect for small rooms or even the bedroom. The focus of this rather feminine look is to blend the armchair and cosy accessories into the interior concept.
The modern romance style is minimalist and yet luxurious nonetheless.
These decorative elements are suitable:
Wide colour spectrum:
From white and ecru to beige and delicate pink.
Play with different textures and materials:
Linen fabric for cushions or curtains, stucco look, marble
Warm wooden elements:
Parquet floor, wooden picture frame
Highlights in gold or cognac colour:
Scented candles, reading lamps, newspaper stands
Mobitec's trend tip: Velvet
looks elegant and luxurious
flatters every colour
as a cuddly blanket, pillow, upholstery cover
---
Our Mobitec selection:
The Bolero, an armchair in the graceful "Zanzibar Ivory" fabric, with a supple walnut frame (N11), seems small at first glance, but has an enormously large comfort factor, thanks to the round backrest which also enfolds the sides.
The matching Bolero ottoman with velvet cover in "Genova Ecru" was chosen for a play with textures to provide an interesting contrast.
3. Literature lovers
A reading corner works incredibly well as a visual interior arrangement. Strong, warm colours create a uniform, cosy look that makes a clear statement. The cognac-coloured furniture and wooden element will attract you as if by magic and beckon you to linger.
What may seem a little austere at first glance, often tends to develop into a central meeting place for the whole family.
These decorative elements are suitable:
Use different cognac tones:
For armchairs, lamps, vases, snack boards
Plants and dried flowers:
Bring freshness and vitality
A woven carpet:
Separates the reading corner visually from the rest of the room
Lighten up the atmosphere:
With colourful books, delicious snacks, fluffy cushions
Add calming elements:
Straight lines, smooth wooden, glass or porcelain surfaces
Mobitec's trend tip: Jute
brings nature into your room
looks robust and stable
as carpet, lamp, wall hanging or other decorations
---
Our Mobitec selection: