A haven of peace for cancer patients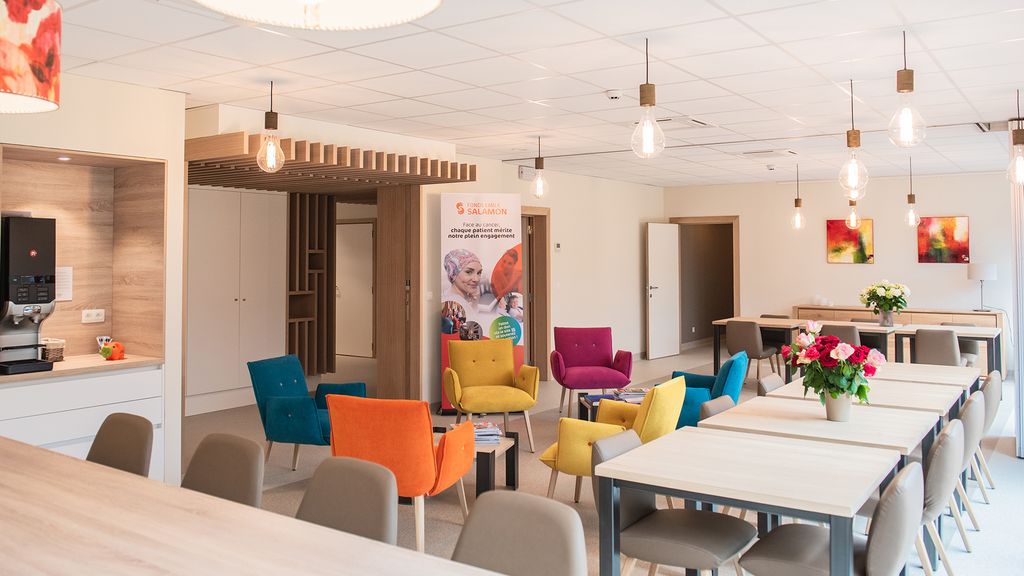 In Namur, a former convent has been transformed into a Wellness Centre offering a bubble of comfort to cancer patients and their families.
Last Wednesday 6 October, on the Belgian television channel La Une, you could see Queen Mathilde's visit to the Espace Bien-être L'Essentiel, located in Namur. This report did not go unnoticed in our team, because it shows the Queen sitting on a beautiful yellow Soda armchair!
This report made us want to find out more about this unique place, whose mission is as essential as its name suggests.
A place to live
Far from the aseptic atmosphere of hospitals, this wellness centre immediately makes an impression with its warm and colourful atmosphere. "We receive compliments almost every time new people discover the place," said Virginie Fontaine, Coordinator. "It is a place full of life, a rainbow of colours!"
Inspired by Maggie's Centres in England, a network of centres dedicated to people facing cancer, the Espace Bien-être l'Essentiel opened its doors in March 2019. "Dr Willemart, head of the SORMN* at the CHU UCL Namur Sainte Elisabeth site, had wanted to launch this project for several years", Virginie Fontaine told us. Due to a lack of funds, the idea was shelved for several years, before the stars aligned to make it possible: "The buildings of the former convent were available for a new use. In addition, the Emile Salamon Fund, whose volunteers accompany isolated patients on their journeys to healthcare centres, had the possibility of financing the works. This is what made it possible for the centre to come into being."
(* Oncology, Haematology, Nuclear Medicine and Radiotherapy Department)
Every detail is important
320 m²: this is the total surface area of the centre, which is located close to, but outside the hospital. "We called on Olivier Simon of Buro5 for the alterations. We used our specific needs and the activities we wanted to develop as the starting point for defining every detail," recalls Virginie Fontaine. "The architect of the CHU UCL Namur, Guerric Dacremont, also advised us on the choice of materials". In the reception area, for example, a wooden structure guarantees the privacy of those in the waiting area, while at the same time giving the place a warm touch.
For the layout and furniture, the centre called on the expertise of our partner Une chaise sur le toit. "They really helped us to create the 'style' of l'Essentiel by advising us on the lighting and furniture," Virginie Fontaine emphasised.
Vibrant armchairs
As for the decision to use Mobitec furniture, it was not entirely a matter of chance: "We had heard that other hospitals had worked with Mobitec furniture," said the coordinator. "Une chaise sur le toit guided us in selecting the models and finishes."
Opting for fabric is a daring gamble in a place that houses patients. "We discussed this with the hospital hygiene department and got the green light," explained Virginie Fontaine. Some time later, the chairs had to be put aside following the COVID-19 epidemic, before being reinstated: "Today, we know that there is no greater risk in using fabric chairs as long as all the other hygiene measures are observed."
A royal visit
A host of colourful Soda armchairs were on hand for Queen Mathilde's visit, including a yellow armchair specially reserved for her: "The Queen complimented us on the choice of armchairs and colours," said Virginie Fontaine.
This visit was particularly important for the wellness centre: "We are not subsidised: our centre depends on the generosity of sponsors. Unlike other care homes, we pay all the people who offer activities. And with COVID, finding funding has become complicated. We hope that this visibility will help us in this respect."
At Mobitec, we are in any case particularly proud to know that our products have found their place within a space that truly embodies our raison d'être: "Together, we create moments of well-being!"
If you would like to support this beautiful project, please do not hesitate to make a donation. Any donation over €40 is tax deductible.
Pictures credits:  @CHU UCL Namur