MyHotel: a 4-star project in Malmedy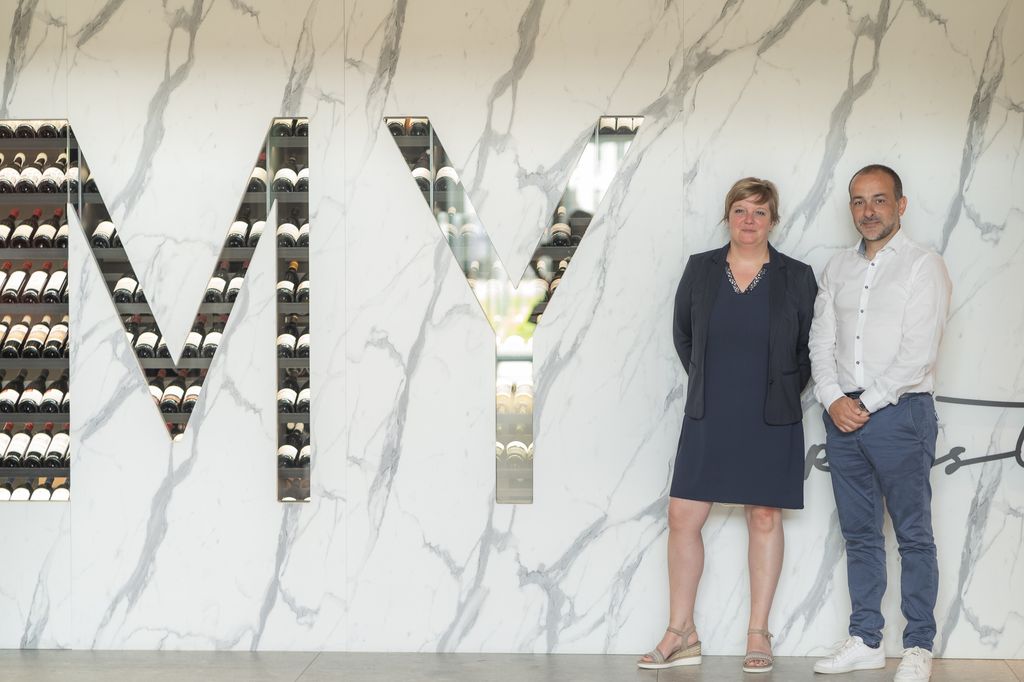 For the past few months, Malmedy has had a brand new 4-star hotel called MyHotel.
Located on the former site of the Steinbach paper mill, on the banks of the Warche, this hotel has been entirely refurbished by our partner Jee-Bee. It features our Soft & Soda and Moods collections among others.  
MyHotel is a hotel with 84 rooms, a restaurant, a wellness centre and a seminar space.
Our colleague Joana Sarlette from the Marketing team visited the site to present this project in detail. There she met Valérie China, Director of MyHotel, and Bruno Polizzotto, co-founder of Jee-Bee located in Verviers.
The MY HOTEL project
First of all, where does the MyHotel name come from?
V. China: We thought long and hard to come up with a good hotel name. The "MY" in MyHotel contains several things. First, the English "my" that evokes a sense of belonging. It is "my hotel", a place where I feel good, where I love to go.
It is also a contraction of Malmedy: the first and last letter of the city's name form the syllable MY. It was very important for us to honour the city through the hotel's name.
How did this hotel project come about?
V. China: We are on the former site of the Steinbach paper mill. When the mill closed, the site was abandoned until our main shareholder, Mr. Roger Gehlen, acquired it to found the Intermills site. He first set up a conference and banqueting centre and then a cinema, the MovieMills. Then the project of a concert hall was put on the table. The perfect complement for all this infrastructure and the city of Malmedy in general was a hotel!
Malmedy is very well supplied with small hotels, bed and breakfasts and guesthouses, but it was missing a large hotel capable of accommodating larger groups. Until now, large groups had to be spread out across several establishments or stay further away from the city centre.
What was the initial vision in terms of architectural style and layout?
V. China: Given that it was a new build, it was always going to be a building with a contemporary look. However, we were careful to balance this modern side with a warm interior design which corresponds well to the atmosphere of Malmedy, whose city centre is only a 5-minute walk away, and to the natural surroundings, since the hotel is located on the edge of the High Fens.
B. Polizzotto: This "warmth" guideline was already very clear in the architect's initial draft: wood, warm and natural colours… We followed this intention to propose furniture that was perfectly in line with this design.
And that furniture also includes Mobitec seats…
B. Polizzotto: Yes, indeed! From the outset, the owner was keen to call on the services of local or regional businesses. We immediately thought of Mobitec which, in addition to being a local company, is also a quality partner that we can count on. The architect knew and liked the brand, so the choice was a natural one.
How do you organise a project of this scale?
B. Polizzotto: The most important point is communication! For this project, we worked closely with the architect and Ms. China from the very beginning. We clearly explained our way of working to them and drew their attention to the critical points. For example, truck access for delivery, storage space, and more, had to be planned out.
Thanks to these precautions, we were able to complete the deliveries, unpacking and installation of all the furniture and waste disposal in less than two weeks! And I would like to point out that these arrangements did not only concern the rooms and the restaurant, but all the spaces, including the outdoor areas, the wellness centre, the seminar rooms, etc.

MyHotel – the rooms
What categories of rooms are available?
V. China: We have standard rooms, 4 family rooms divided into a section for the parents and one for the children, and 7 suites each with their own individual style.
The Soft & Soda collection can be found in the rooms. Why put them there?
B. Polizzotto: First of all, we wanted real seating comfort. The quality of the seating in a hotel room is very important, because it reflects the overall quality of the establishment. In addition, the Soda seats have an atypical aesthetic. They do not look like the type of chairs you see everywhere. Everyone liked their look; it was a unanimous decision!
How did you manage the furnishing of the suites, since they each have their own style?
B. Polizzotto: Each suite has its own style, but they all have the same type of furniture. For example, there are Soft & Soda seats in each suite, but with different coverings.
To really stick to the wishes of the architect and the aesthetics of each room, we proposed fabrics chosen by us for certain seats for which we could not find a close enough match in the Mobitec catalogue. The possibility offered by Mobitec to use a covering supplied by the customer is an asset, as it allowed us to offer tailor-made items of furnishing.
MyRestaurant – the dining area

The restaurant is also a very important part of the hotel…
V. China: Indeed! In fact, it is accessible to the general public and not only to our guests. We have already succeeded in building the loyalty of a regional clientele that enjoys our offering!
You opted for Mood#91 and Mood#95 seats to furnish this space. Why did you choose those seats in particular?
B. Polizzotto: Because they are comfortable and aesthetically-pleasing! They are modern without being too modern and they bring that warm touch that we were looking for.
You also opted for a mix of different shades and finishes…
B. Polizzotto: Yes, it prevents a certain feeling of monotony when you have so many chairs in a single space!
V. China: We really wanted to avoid the "canteen" feel that can occur when opting for a single type of seating.
B. Polizzotto: It is important to note that we did not mix different colours either. That is not so much in vogue anymore. Instead, we have played with variations in the same colour ranges. And it looks great!
We recommend…
If you are passing through Malmedy, don't hesitate to stop by the hotel for a tasty lunch or a romantic dinner at the MyRestaurant. The restaurant is open 7 days a week and offers a bistronomic cuisine based on Chef Lionel's suggestions and regional specialities.
For our part, we fell for a roasted guinea fowl supreme with chorizo, zucchini, potatoes and a red pepper emulsion, for a colourful tomato salad with strawberries, balsamic cream, burrata and Ibravila "pesto" olive oil, and for a green asparagus salad with Italian ham, parmesan shavings and vinaigrette with truffle chips.
" A refined cuisine that we warmly recommend ! "  
Bon appétit !
---
MyHotel

Rue Devant les Grands Moulins 25
4960 Malmedy (BE)
+32 (0)80 78 00 00
www.myhotel.be
Greybox Architecture
architecture : David Edelberg
interior : Anaïs Di Cienzo
Grand Ry Cornesse 236
4860 Pepinster (BE)